For the live action movie, see Parasyte: Part 1.
For the anime, see Kiseijū: Sei no Kakuritsu.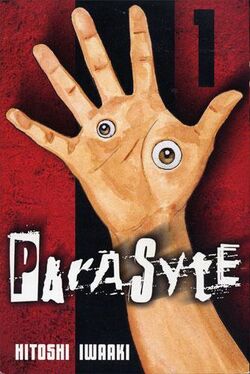 Kiseijuu (寄生獣, lit. Parasitic Beasts) is a horror sci-fi manga series written and illustrated by Hitoshi Iwaaki. It centers on a boy named Shinichi Izumi who lives in a world where aliens suddenly invade the planet and take over human bodies. One alien tries to take over Shinichi's body, but fails. He ends up residing in Shinichi's right hand and the two are forced to co-exist as allies against other parasites looking to kill them.
Synopsis
They arrive in silence and darkness. They descend from the skies. They have a hunger for human flesh. They are everywhere. They are parasites, alien creatures who must invade and take control of a human host to survive. And once they have infected their victims, they can assume any deadly form they choose: monsters with giant teeth, winged demons, creatures with blades for hands. But most have chosen to conceal their lethal purpose behind ordinary human faces. So no one knows their secret except an ordinary high school student. Shin is battling for control of his own body against an alien parasite, but can he find a way to warn humanity of the horrors to come?
Volumes
Title

Chapters

Release Date

ISBN

Cover

Volume 1
July 20th, 1990
ISBN 978-4-06-314026-2

Volume 2
January 18th, 1991
ISBN 978-4-06-314029-3

Volume 3
July 18th, 1991
ISBN 978-4-06-314036-1

Volume 4
January 20th, 1992
ISBN 978-4-06-314040-8

Volume 5
August 19th, 1992
ISBN 978-4-06-314045-3

Volume 6
January 19th, 1993
ISBN 978-4-06-314054-5

Volume 7
July 20th, 1993
ISBN 978-4-06-314064-4

Volume 8
February 16th, 1994
ISBN 978-4-06-314076-7

Volume 9
November 11th, 1994
ISBN 978-4-06-314095-8

Volume 10
March 15th, 1995
ISBN 978-4-06-314107-8
Other Information
The series won the Kodansha Manga Award for general manga in 1993.
It also won the Seiun Award for being the best manga of the year in 1996.
In Japan it sold more than 11 million copies in release of every volume back then when it was still running.
In a 1996 poll result of Top 50 all time manga by Japanese Agency for Cultural Affairs, done as a part of Popular Japanese Media Art polls, Parasyte was ranked as 14th best manga of all time in Japan, out of all 50.
After the release of the last volume, many other manga series were inspired by it, as well as video games.
It has an alternative release format by Kodansha with 8 volumes, and a westernized translation by Tokyopop where the work was flipped to read left-to-right, resulting in Migi being called Lefty.
Parasyte was one of the first four manga licensed by Tokyopop, then named MixxZine Magazine.
Community content is available under
CC-BY-SA
unless otherwise noted.